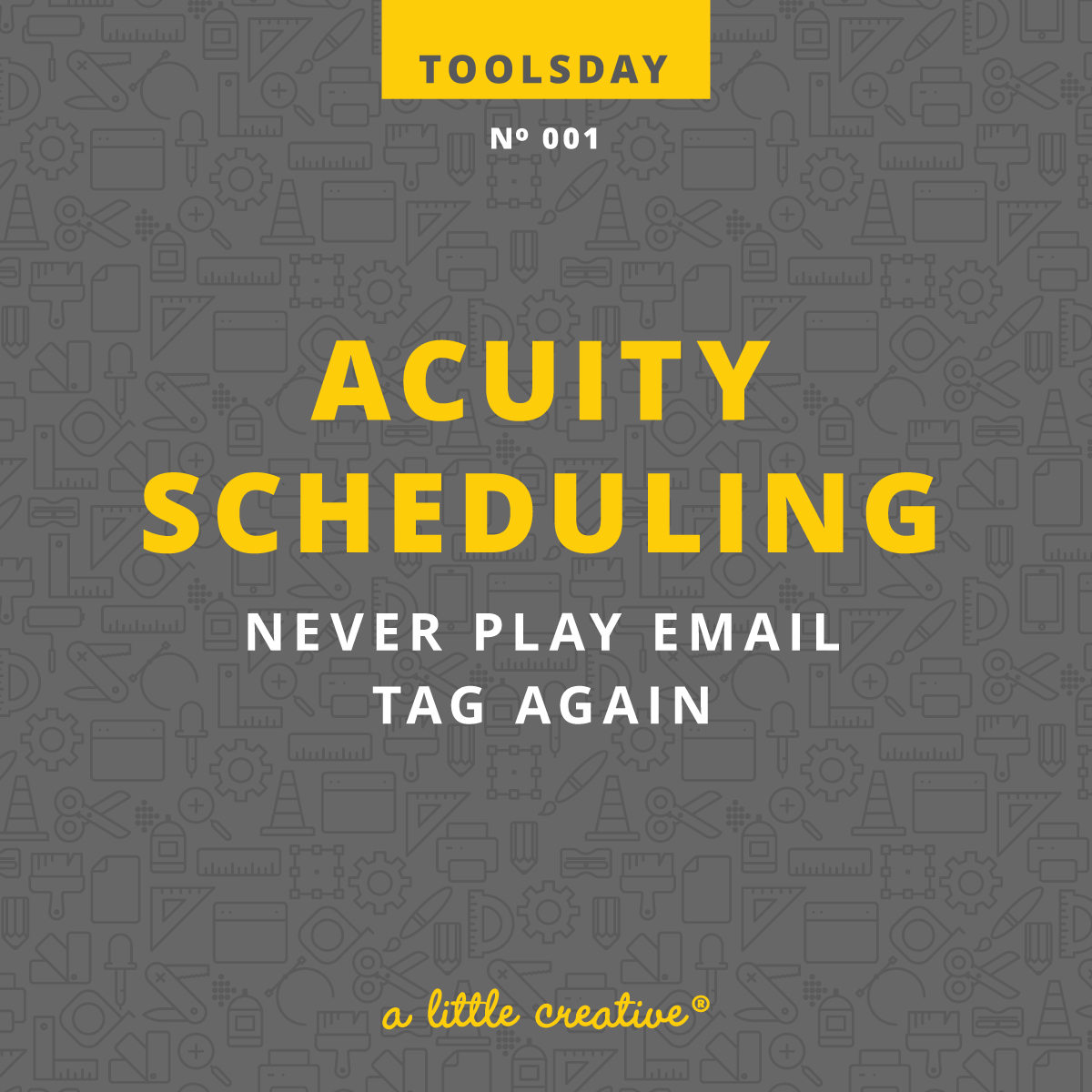 Welcome to the first installment of Toolsdays, where I put my Shiny Object Syndrome to good use to bring you useful shit for both business and life! Now, before we dive in, I want to let you know that some of the Toolsday articles will include affiliate links, which I'll always indicate at the top and bottom so it's clear.
Definitely know though that my opinion isn't for sale and I only support shit I've used and love. So when something is an affiliate, you'll see this:
Disclosure: this post contains affiliate links, which means that if you click on one of the product links and end up signing up for an account, I'll receive money as a referral fee.
I'm a big fan of games. Scrabble, Pictionary, cards… pretty much anything except email tag. I quite literally loathe email tag. It usually goes something like this.
Me: "I'd love to chat with you more about your project. How about Tuesday at 1 pm."
Them: "Great, I'd love to chat with you too! But Tuesday doesn't work for me. How about Wednesday at 9 am?"
Me: "Unfortunately no, Wednesday at 9 is no good. But I could do 11."
Them: "Oh wow, 9 am Wednesday is the last spot I have available until the following Monday – are you free then?"
Me: "Actually I'm out of the office all day that day…"
On and on and on until one of us dies. Or I kill myself so I no longer have to play this game. You get the idea.
Well no more, thanks to Acuity Scheduling. With Acuity I never have to play email tag again and it has saved me tons of time, tons of emails, and dare I say, makes scheduling not only easy, but also enjoyable.
Acuity does offer a free plan that allows you to dig in and inspect things for yourself, so I won't be doing a crazy in-depth review of exactly how I use it and all the little nuances. But I will highlight the overall features and what makes it so great so at least you know what you're getting into if you want to give it a try. Please note that I have a paid plan, so some of the features may not be available with a free plan.
So let's dig in, here's some of the great features Acuity offers:
2-way calendar sync
You can set up a 2-way sync with your Google Calendar, meaning any Acuity appointments made will be instantly added to Google, and vice versa. This means no going back and forth between calendars to make sure your doctor's appointment isn't showing as an available time in Acuity.
I use my Google Calendar for everything and have about 5 different calendars set up for various things like personal, business, my husband's schedule, etc. Acuity appointments are booked in one calendar (like business), but the system reads everything so that if I have a commitment on my personal calendar, that time shows as unavailable.
Acuity also syncs with iCloud and multiple other 3rd party calendars so you're likely covered no matter what email provider you use.
Multiple Users
You can have multiple users and grant admin access to them. This is perfect if you have any kind of assistant or someone to help with admin tasks like scheduling. This way you can set them up with their own login information so you don't have to release yours.
Schedule availability and limits
If you want to set your daily/weekly hours to only a certain block of time (say 8-noon), you can do so without having to block off a bunch of time in your calendar system. It will read whatever conflicts exist within that timeframe you set and show only the available times.
You can also set up scheduling limits for how far in advance (or the future) appointments can be scheduled as well as how much time is required to cancel an appointment. This is in addition to setting start times at certain intervals (15 / 30 minutes, etc.) and allowing (or not), people to reschedule appointments on their own, without any involvement from you ??
A multitude of appointment types
Have appointment types that vary by length? No problem. That vary by location? Cool. That vary by contact method? Easy peasy. Acuity allows you to set up any kind of appointment you need and assign it to a specific category to make it super organized. And for each appointment you can add forms, descriptions, buffer time before and after, colors, pictures, time, and price, making it perfect for all kinds of businesses.
Forms
You may be thinking, but I have forms on my website (or somewhere else). True. However, sometimes you need to ask other information that may not be included on your website. Or maybe your appointment bypassed your website but you still want to ask all the questions they would have answered there.
For example, I offer both video and audio calls. For video calls I use a simple one question form that asks the person's Skype handle. I also get a lot of business through referrals from friends and previous clients. These often come via email, bypassing my website, and thus, my intake form. In this case I use a form that repeats all the intake questions they would have answered had they come through my website.
Reminders galore
I've tried a bunch of scheduling tools prior to landing on Acuity. And the one thing that always pushed me out was the lack of confirmation and reminder notifications (or lack of customization on them). Not here. Acuity allows you to customize the shit out of your email communication. You can have unique emails for certain meeting types and set reminder emails up for as often as you like. This is in addition to email capabilities for cancellation, rescheduling, follow-ups and packages.
Packages, gift certificates, and coupons oh my!
This is like appointments on crack. The good kind, if that were a thing. Packages can be set up to pay for several appointments all at once, which can then be redeemed later. This is great for anyone who does coaching or consulting, or even any kind of in-person service.
Similarly, you can offer gift certificates and/or coupons, all of which you can set the standards for.
Link it, embed it, highlight it
Acuity offers the ability to embed your scheduler (for all appointments or just specific ones) directly into your website. They have tons of guides to help you no matter what kind of site you have or you can even have one of their developers do it for you—FO FREE!
Don't want to embed it? No worries. Every appointment, category of appointments, or even all appointments together, come with a link you can use for scheduling. So many options depending on what you need
Branded appearance
Another feature that I appreciate as a designer who does a lot of branding, is the ability to customize the appearance so that I can create a cohesive visual experience for my business. From colors to fonts to messaging, there's a lot you can do, including using custom CSS to customize the shit out of just about anything on your scheduling page.
---
These are really just scratching the surface of what Acuity can do and how you can customize it to serve you best. Acuity is one of those tools that I honestly think I couldn't live without. In addition to how much time and headache it's saved me, it's also super affordable with feature-rich paid plans starting at only $10/month (they do have a free option as well, although functionally it is limited). Their customer service is off the charts too. Whether I contact them via email or social media, I typically get a response within hours—if not minutes—so there's no extended wait to try and troubleshoot my limited technical capabilities.
And Acuity's brand is one I admire as well. They have a small business mentality so they understand there are usually too few people doing too many things. They don't themselves too seriously and are committed to killing it in regards to providing a damn good product and service. And they have a great sense of humor to boot, which is a quality that gets me every time.
So if you also loathe email tag like I do and are looking to save oodles of time, give Acuity Scheduling a try. You can thank me later.
Reminder: this post contains affiliate links, which means that if you click on one of the product links and end up signing up for an account, I'll receive money as a referral fee.