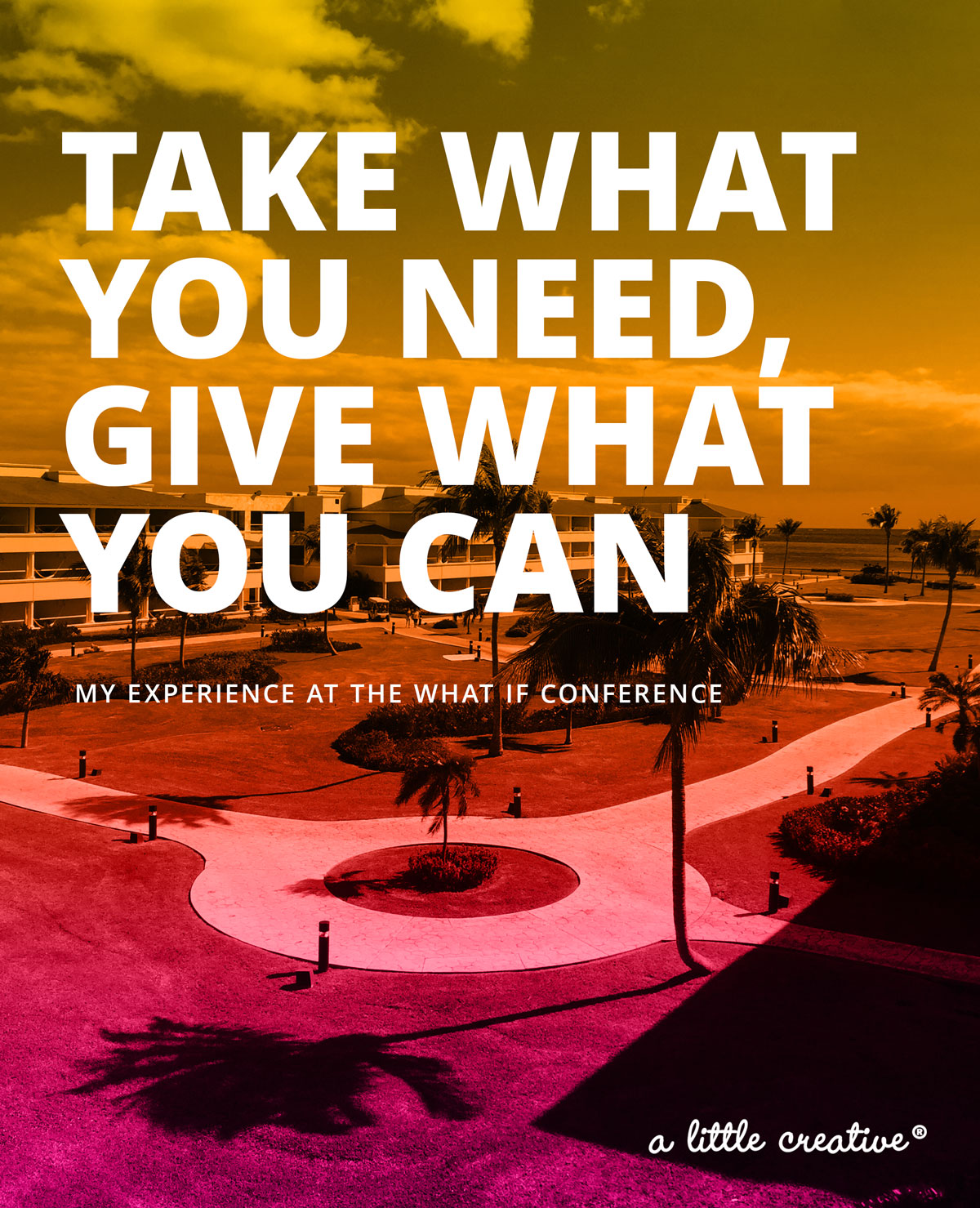 In January of 2016 I attended the What If Conference. If you've clicked over and are looking at what that is now, it's pretty nondescript, with lots of typical conference jargon. Not much to give you a clear picture of what it really offers or is about.
My initial interest was peaked a couple years ago after I witnessed some conversation on Twitter between some previous attendees. They appeared like a really tight-knit group and I liked the way they seemed so connected to and supportive of one another. They also seemed like really interesting, inspired people outside Twitter as well, which was a total bonus (thanks to my innate cyberstalking abilities).
What If I went and became part of this group?
I couldn't go that year, but when the dates were announced the following year, I jumped on it right away. It was a hefty investment and I still wasn't quite sure what it was all about or what I wanted to get out of the experience. To be honest, I didn't even know when I arrived the first day.
What If I invested all this money and got nothing out of the whole experience?
What If is attended by a large number of alumni, where newcomers are actually the minority. These people are a family. And family was a word that was used in a lot of the materials describing the conference.
What If I wasn't accepted into this family?
The first couple of days were weird, consumed by trying to put myself out there as a new person among a bunch of strangers, meet those whom I'd admired online, and do my best to figure out what I really wanted from the whole experience. Alumni couldn't really explain what What If was, only that they loved it. So much so that they continued to come back year after year.
The one thing the founder did say repeatedly was this: What If gives you what you need; even if it's not what you think you need, or what you came here for. You'll end up getting what you need at the time.
What If I didn't get what I needed?
I wasn't sure what to make of her statement, but it stuck out in my mind and was something I found really intriguing. Perhaps the skeptic in me was in disbelief, determined to prove her wrong.
What If I was so skeptical that I didn't give it my all and I sabotaged the experience myself?
The first few days included some influential speakers as well as smaller break-out sessions that were more interactive and involved. But I still wasn't getting that family vibe that all the literature described or the alumni spoke about. There was family alright, but it was someone else's, and I wasn't a part of it. It was like attending someone else's family reunion, where you're the odd man out and everyone else seems to have some inside information that you're not privy to.
What If I never find my family?
I realized then that the family aspect was part of why I had come. I wanted it for myself. I wanted a place, and a community of people with whom I felt at home and safe to be my whole self; to talk openly and be vulnerable about all things good and bad.
What If this family wasn't it? What If these people didn't like me?
I have wasted a lot of money on my business over the last several years, taking too many e-courses, downloading too many pdfs, buying too many books and programs, and attending several conferences that never resulted in much. I didn't want this to be another experience that translated into wasted money or time.
What If nothing came of this experience?
The second to last day we did a day of service, helping out at a local rehab center, building structures, fixing things, and doing activities with the residents. During dinner we were asked to share our feelings about the experience as it often left people feeling somewhat conflicted about their own attitudes and lives.
We were asked to share the following:
– where we were at that moment and where we wanted to go
– an ask; what kind of help we needed from others
– an offer; what we could do to help others in their journey
What If I didn't know what I wanted or how to get there?
In small groups, we each took turns sharing. The first couple people to speak were pretty happy-go-lucky, and had a clear understanding of where they were and wanted to go.
I didn't. And therefore, I felt ashamed and embarrassed.
Before it came my turn to share I could feel myself on the verge of a breakdown. The kind where all someone needs to do is ask, "How are you?" and suddenly, the damn breaks and the floodgates are opened. Tears for days.
What If I made a total fool of myself?
When it came my turn to speak, I hesitated. I second guessed myself and all those What Ifs suddenly appeared. The risk was high. But not one to shy away from difficult conversations or censor myself from honest opinions and feelings, I quickly questioned why I had come to What If and knew that if I wanted to have deep, raw, vulnerable relationships, I had to lead by example. So I opened my mouth, the damn broke, and the floodgates opened.
I shared that I didn't know what I was really doing in my business.
I shared that I wasn't really sure where I wanted to go with it.
I shared that I felt really unsure, of just about everything, and that I was afraid.
I shared that I didn't feel like part of the What If family.
I shared that I didn't know what I needed help with and therefore could only offer support to others in their journey.
I shared that I felt alone and unsupported.
But What If I wasn't alone after all?
What originally started as a roundtable conversation over dinner ultimately became a 5 hour discussion, with twice as many people as were initially involved. Each person shared their own personal What Ifs and nearly everyone left in tears, either due to their own personal pain, or the weight of someone else's.
What If my willingness to be honest and vulnerable gave others permission to do the same?
The following day was the last official day, which can only be described as heavy. Very emotionally heavy. I won't reveal the intimate details, but it included some affirmation exercises that left nearly everyone sobbing. People expressed what they needed (even if it was just a simple "Thank you"), and held space for others to do the same. We validated one other in silence and carried the weight of each other's load to help make it a little easier for them to bear.
It was then, in that moment, that it all changed for me, things clicked and the founder's statement of getting what you need came true. I needed this kind of support and validation in my everyday life, from people who get what I'm going through because they too, are experiencing it for themselves.
What If was many things: a place to meet remarkable people who get me, a place to refresh, rethink, and redefine my goals, a place to get away from the chaos of everyday life and clear my head, and a place to find community and camaraderie.
What If helped me find clarity on what it is I really want, as scary as that may be. It taught me that anything is possible if you want it badly enough and are courageous enough to wade through all those What Ifs to get it. It showed me that I am loved and worthy of love, even if sometimes I fail to see it for myself. Especially if I fail to see it for myself.
What If was just as it says; all the What If questions we all have in our lives. Funny thing is, we already have the answers. And What If helped me see that.