this post was written by myself + my work wife, Alison, of Tiny Blue Orange and was originally published on the Creative Class. Please note: this post contains affiliate links, which means that if you click on one of the product links, I'll receive a small commission. However, I only promote products and services I've tested and wholeheartedly believe in!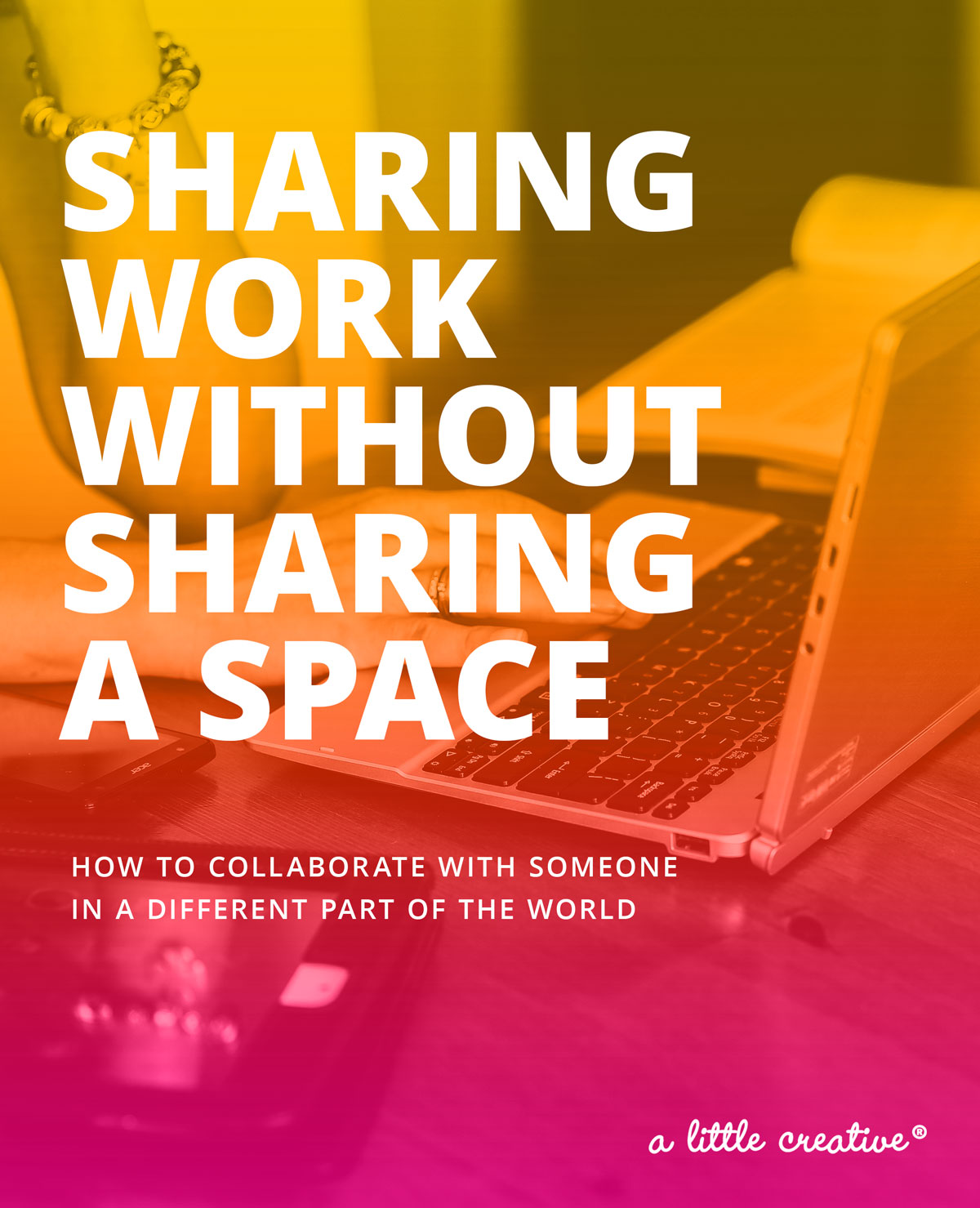 How to collaborate with someone in a different part of the world
I'm sure at one point or another everyone has thought to themselves, "This would be faster if I just did it myself". But what happens when you don't know how to do it all yourself? OR, you really don't want to? We suggest finding someone to collaborate with instead!
No one can be good at everything and collaborating with another freelancer allows you to set bigger goals, reach more (and often bigger) clients, as well as complement your skills and services to take your business to the next level.
But just as you've built your business with a purpose, the same should be done for your collaboration. Collaborating with someone isn't just about increasing your audience or riding the coattails of someone who's internet famous (like Paul).
At its core, collaborating is about providing a better quality product and/or service to your customer.
When you're ready to collaborate (maybe out of sheer necessity), you'll likely find your best partners in the same places you'd find your best clients, or even your best friends. Whether that's social media, online communities, or someone you've been cyber-stalking for weeks (in a totally non-creepy way, of course), you likely already have a shortlist of people you'd love to collaborate with.
That's sort of how it happened for us. We initially met on Twitter and formed a fast friendship, exchanging fart jokes, a shared love of cheese and bad TV. We knew from the start that each of us had very different but complementary skill sets, and though we have an equal love of swear words, professionally we differ. Morgan's focus is brand strategy and print design, while Alison's is web design and development. We both had mutual admiration for the other person and their respective zone of genius so we would frequently refer clients back and forth.
After a year or so of online friend-dating, we took it to the next level and went on vacation together. We'd never met in person and only knew what the other person looked like through random occasional Skype chats. So it goes without saying that our significant others thought we were crazy. But hey, when vacation calls and an opportunity presents itself, it's in your best interest to listen.
One day while on vacation—instead of going sightseeing—we decided to workshop each other's businesses. And that's when we had the idea to collaborate. Instead of passing clients back and forth for services we didn't independently offer, we decided to team up and work together to create a one-stop-shop for people. This would allow us to learn skills the other possessed as well as offer a higher level of service and a brand that's more cohesive.
It was then that little + tiny was created. Both of us had pretty strong independent brands and we didn't want to ignore that or have to create something entirely new. So we simply took parts of our existing identities and combined them into one. a little creative became little and tiny blue orange became tiny. Together, we are little + tiny. We wanted to present ourselves to clients in a way that emphasized our individual strengths as well as the fact that we were now combining them to provide more—and better—for people.
Ever since that week in Utah, we've been working together on projects big and small. We've learned a lot of things the hard way and it's a constant work in progress. But when you love what you do and you get to do it with someone you love, those hard lessons are a lot more bearable. It's all about experimenting and communicating out the wazoo.
There's at least eight ways from Sunday to set up your partnership, but the best way to get the logistics and method of collaboration down with your new online buddy, is to start small. Instead of taking on a big client project right out of the gate, perhaps you participate in an online challenge or host a Google hangout together. Keep in mind that the more people you put in the mix, the more complicated things become and the more essential having a streamlined process is.
Starting small gives you a chance to work out the kinks while establishing necessary boundaries and identifying your respective deal breakers. Trust us when we tell you it's great to figure this shit out before you involve legal documents, paying clients and extensive project timelines. It gives you far more freedom to try things out and make changes on the fly.
However, the most important thing about sharing work without sharing a space is being organized, with your communication and your digital space. Here are some vital (and technical) things you'll need to keep straight to avoid losing your mind:
Time Zones
When collaborating with someone in a different time zone it's important to identify the time of day that you both work best and can work together. I am a freaky morning person and Alison is a night owl. But because I am 2 hours behind, I don't Alison before she's awake. Similarly, Alison can text me at midnight and still catch me before I go to bed. This is what we like to call a win-win.
When you work together on paid projects, make sure to also let your clients know that you are operating from different time zones. Your client may represent a third time zone to consider as well, so it's important for them to understand why they are hearing from you at different times of the day or why you have a smaller window of meeting availability. Saying you'll deliver something "end of day" doesn't mean much when you have multiple time zones to consider. Make sure you communicate which time zone "end of day" relates to.
Meetings
Depending on the size of project you're collaborating on, you might want to set up a recurring meeting for you both to hold sacred on your calendars. Written communication is convenient but not always effective. At the end of the day we're all human and you'll likely need to talk shit out once in a while. It doesn't have to be weekly if that doesn't suit your project or your style, but consider finding a time that you can keep consistent throughout the project. We have a standing meeting every Friday over Skype. Sometimes life shit happens and we have to reschedule, but generally we make it a point to touch base even if only for 15 minutes.
As you begin to bring clients and projects into your partnership, a secret weapon in your toolkit should be a shared calendar.
It can sync with each of your individual calendars and save you a ton of time as well as a ton of emails. Assuming you're using a scheduling tool like Acuity (affiliate link) or Calendly, you can also share it with your clients so that you're not playing email tag. We love games, but that's our least favorite.
We also share an email address, which we use to set up our shared calendar and communicate with our clients. Especially when initiating a project together, it's great to use a single email address to present yourselves as a team and a unified front. Plus, clients appreciate you streamlining the process and making things easy for them.
Ongoing Communication
While scheduling every little detail is great for Type-A people, sometimes you need faster and more casual ways to communicate, especially since you're far apart. Email can work for this, but seriously, who the fuck wants more email?
We prefer using Slack instead, which has been a game changer. It keeps us from living in our inboxes while also avoiding an onslaught of text messages to our personal phones (work/life balance, anyone?). We both use the Slack app and keep it open when we're available so we can send each other messages throughout the day as needed. It's great for sharing quick screen grabs, files, questions and thumbs up emojis. Or taco emojis, if it's lunchtime.
Here's a great tutorial on how to set up your own Slack channel should you want to experiment with it on your own.
Dividing Responsibilities
Just as we share a calendar, email and Dropbox (affiliate link) folders, we also share to-do lists using Wunderlist (no longer an active tool, but here are some good alternatives). You can share entire lists, create specific due dates and times, and create subtasks and notes. When working on large projects, or those that have detailed milestones and due dates, keeping detailed to-do lists—with the person responsible—is really helpful for both of you to stay accountable (and on time).
File Organization and Sharing
For project files that need to be saved, shared and organized, finding a project management tool that you both use is ideal so that you can centralize everything. Again, it depends on the work you do and the scope of the project you're involved in, but something like a shared Dropbox folder might solve all of your problems (ok, maybe not all, but at least some).
If you need more features than just file sharing, a true project management tool might be a better option. There are literally dozens of options to choose from so you'll need to evaluate what's best for you. We use Podio, which has a definite learning curve, but is incredibly dynamic and adaptive and allows us to customize things for every client depending on the needs of the project.
Selecting your tool will also help with bringing clients into your collaboration because it allows everyone to communicate easily within the same platform. It can also serve as a tool for converting time zones to keep everyone on the same page. Prior to diving in with a paying client, we encourage you to set up a sample project in your selected PM tool to talk through all of the pieces you may want to include. But we get that sometimes time is a luxury and believe it's better to create first and evaluate later. You can always do things differently for the next project or partnership and it's better to start and make mistakes than not start at all!
Creation Tools
Depending on what kind of work you're doing, software may play a big role in your collaboration. As designers, we share Photoshop and InDesign files like crazy.
Sometimes we send files back and forth as work is completed (thank you, Dropbox), with a simple heads-up message to let the other person know the file is ready. Other times we work on files together during our recurring Friday Skype chats by opening the file on one computer and screen-sharing it so the other person can watch and art direct.
We also share a slew of Evernote (affiliate link) notebooks, several for our internal collaboration documents and ideas, and one for every client. Evernote has a really robust free option and is a great tool if you do a lot of writing.
When it comes to the technical tools, there are a lot of different options. It's really about finding what works for you without creating a bunch of unnecessary hurdles or roadblocks to getting the actual work accomplished.
No matter what size project you collaborate on, always remember why you teamed up in the first place. This is especially good advice if you find yourselves butting heads or at a crossroads over a solution. Spoiler alert: your "why" of collaborating should not be to make you prom king or queen of the internet. If you happen to get crowned, more power to you, but that should not be the driving factor.
Finding someone you are inspired by and who has skills that complement yours is a great way to start things off on the right foot. Not only will you learn from one another, you'll also produce better results, whether it's a product you make together or client services you team up to offer.
Don't get us wrong, being in the same room, city or time zone is awesome, but it's not a requirement to working together. With the resources and tools available to us as online business owners and freelancers, geography is no longer a limiting factor. And who knows, maybe now you even get to travel more because your collaboration happens with someone in another part of the world (hello, tax write-off).
---
Do you have a work wife (or husband)? Hit me up on Twitter and tell me how you manage your collaboration!