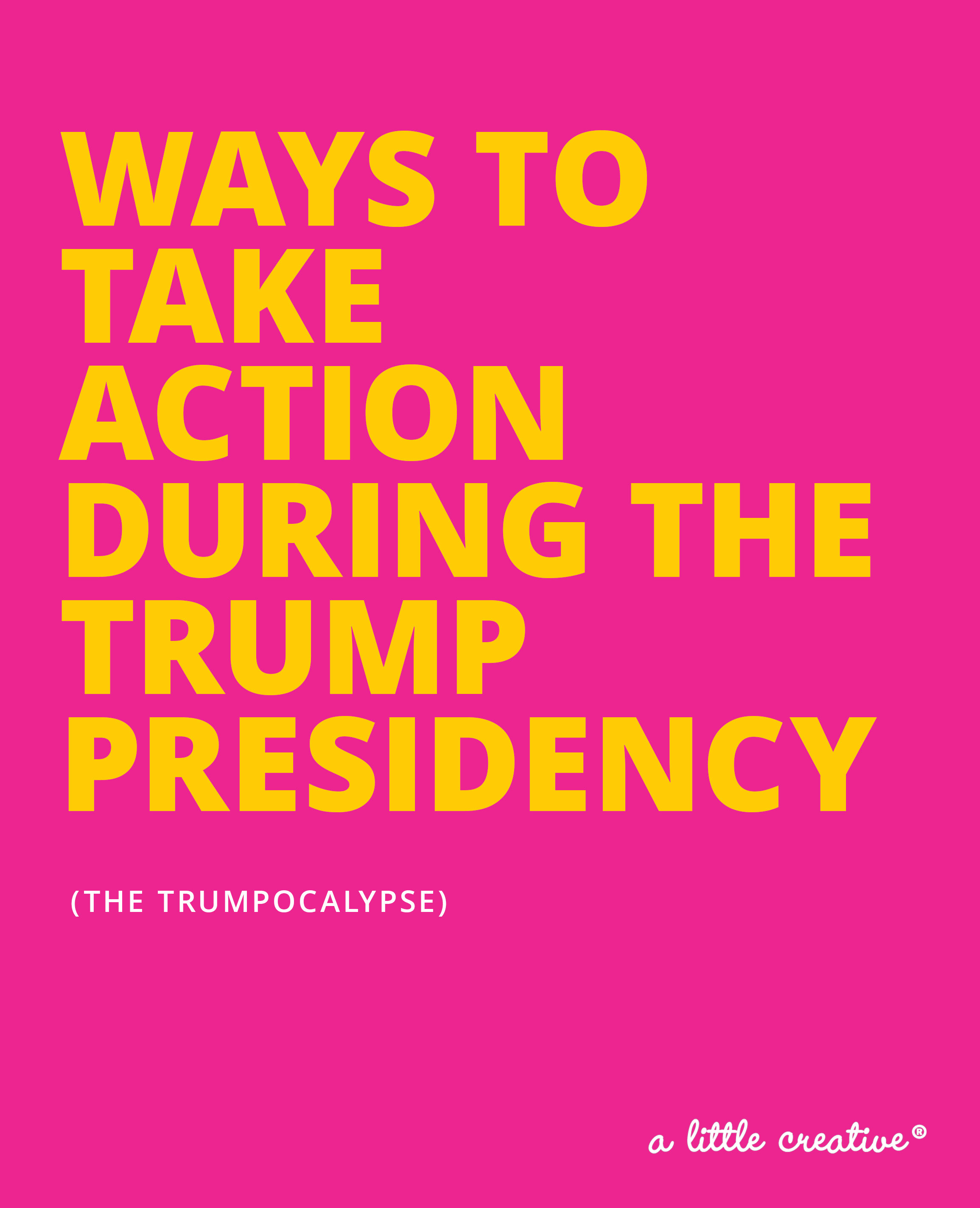 For those of us who live in the states, it's a weird, weird time. An ugly, unsettling, and in my opinion, a really NOT OKAY time. Many (myself included) are sorting out how to process what's happening, both privately and publicly. I've seen the hate that's being spewed, from the top to the bottom. Social media is no longer a playground or place to market your business, it's become a place of political commentary, and many are bashing those who are not actively speaking out.
But as my friend Lisa pointed out on Twitter, bad things are happening EVERY SINGLE DAY under the current administration and doing business in these times is tough enough. So let's not condemn people who still need to earn a living. Or people who are processing in their own way and may not be as publicly active as you are/like/expect/want. Perhaps you are also feeling a hundred mixed feelings and unsure of what to do to help.
You are not alone.
In times like these it's hard to know what's "right" and where you should be placing your energy, even though you know you need to do something—anything—to stand up for the rights not just of Americans, but of PEOPLE. Equal people, regardless of race, religion, age, gender, sexual orientation, or anything else.
So if you too are in this camp and want to take action, there are a number of ways to do so. Pick what feels right to you and just start.
Download the Indivisible Guide.
The Indivisible Guide is a practical document, put together by a group of volunteers, that provides information for how to resist the Trump Agenda. You can sign up to get updates regarding activity local to your area as well as get involved with a local group.
---
Call your local representatives.
5 Calls is a great resource if you have no idea where to start. It not only gives you a starting place to align with current issues, but then provides you with the all the information you need to make contact—who you're calling, the number to call, and even a script that you can read.
This is another great resource for those that suffer from social anxiety, which takes you through the process of calling, step-by-step.
---
Purchase products and services that support organizations and causes you care about.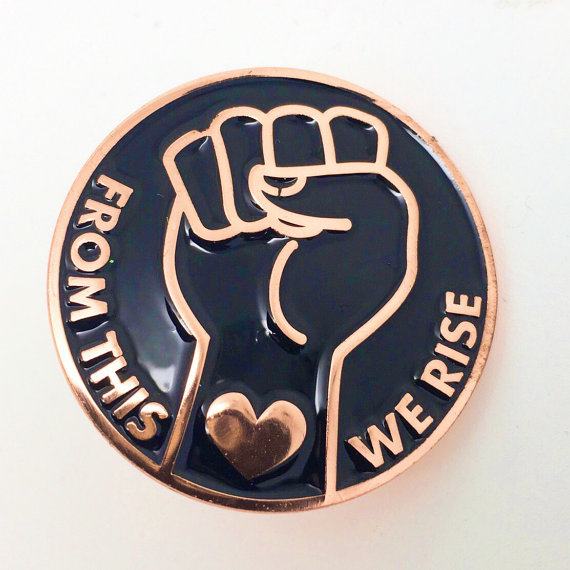 Loaf and Puddle is donating 100% of the profits from the From This We Rise pin to the ACLU. Like many, she is using her creativity to take action and channeling her frustration into art.
---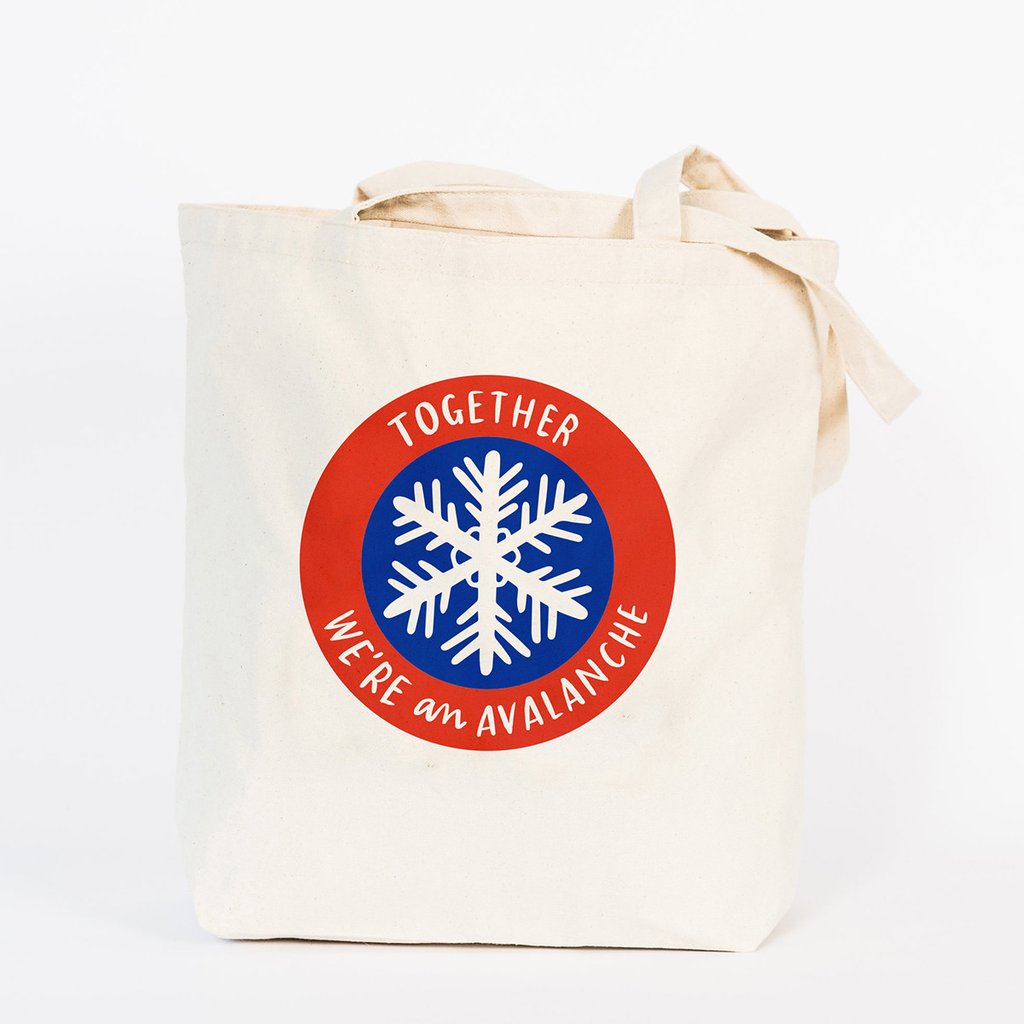 Likewise, Emily McDowell is also donating to the ACLU with a small collection of four new tote bags. Emily is nothing short of a creative genius and everyone should have some of her products. These just sweeten the deal.
---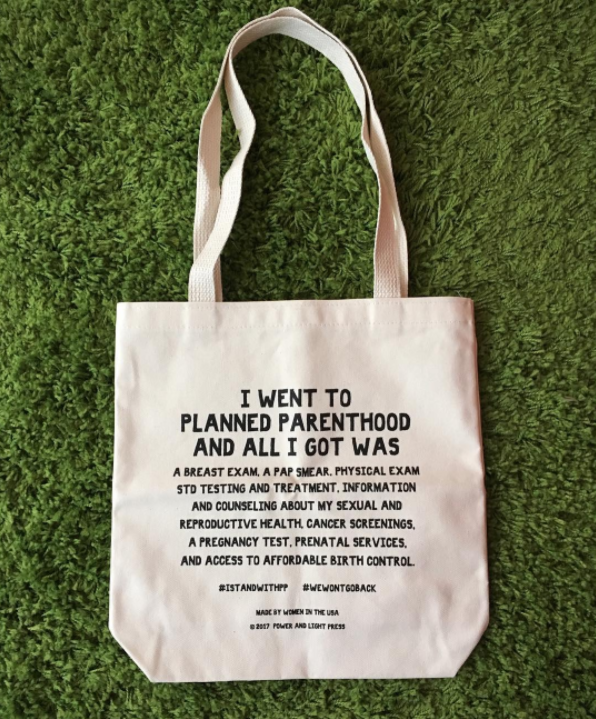 Power & Light Press is similarly donating proceeds from their Stand with Planned Parenthood tote to Planned Parenthood and they've already donated $70,000! Like, whoa! You can always use an extra tote bag, and one that supports such a great cause is an even better reason to have it. (photo by @wonderfulwonderfulco)
---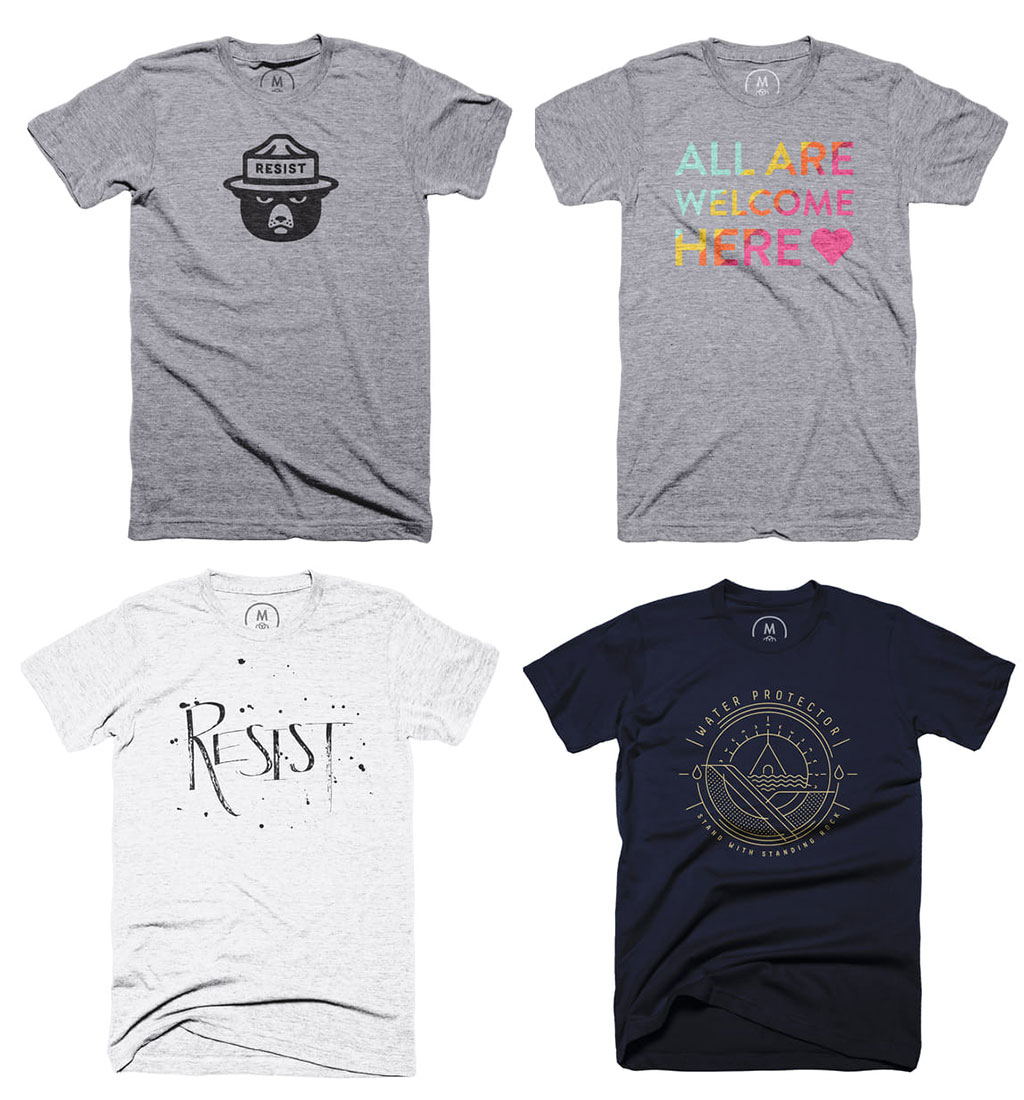 Cotton Bureau has a number of great t-shirts they're selling in support of a multitude of organizations/causes. All the shirts are designed by various artists, all of whom below have decided to donate their profits to charity.
Shirt referenced are left to right, top to bottom.
The Only You Can Prevent Alternative Facts tee is splitting all designer proceeds between the National Parks Foundations and the National Forest Foundation. This shirt is only available until Feb. 10 though, so act fast!
Proceeds from the All Are Welcome Here shirt are going to the ACLU. (purchase by Feb. 13th)
The Resist shirt proceeds are going to Planned Parenthood and the National Immigration Law Center. (purchase by Feb. 17th)
The Water Protector shirt supports Stand with Standing Rock. (purchase by Feb. 15th)
---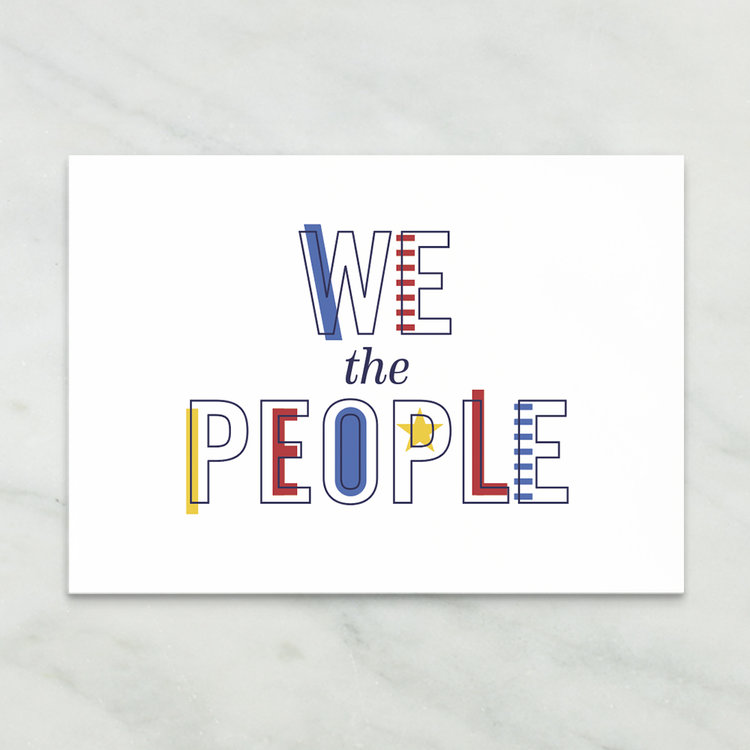 The gals at Curious & Co. design studio have created a project called We the Postcard — patriotic postcards ready for your two cents. Cards are sold in sets of 10 and include FREE shipping in the U.S. In addition, 50% of the proceeds are being donated to the National Endowment for the Arts, the Natural Resources Defense Council, and the ACLU.
This is the perfect opportunity to spam all your long distance friends (and state representatives) with a shit ton of snail mail!
---
Donate money.
You likely already have some organizations and causes in mind, but if you want to broaden your reach, here are a few more to consider post-election 45. (please note that these are not my specific opinion of who to support, merely suggestions of organizations that might need help during this time)
---
Donate your time.
For many, donating money isn't always possible. So consider donating your time and skills instead. Volunteer Match brings good causes and good people together and is a great resource to find organizations that need help in your community (or online virtually).
If you're a creative professional, consider taking the Indivisible pledge by committing to work on at least 1 pro-bono project per year over the next four years. Join Indivisible's growing list of creatives and find an organization close to your heart. Started by the gals at The Beauty Shop, a branding and design firm located in Portland, they modeled their effort purposely after the Indivisible Guide and are committed to bringing people together to resist the Trump agenda.
Sign up at We Are Indivisible.
---
Have difficult conversations.
If your parents are of a certain age/generation, it's likely they voted for Trump. You may also have friends who voted for him. So assuming you're still talking to these people, consider having difficult political conversations with them. Make an effort to understand their opinions and ask they do the same for you. Listen instead of lecture. Ask questions and remain calm. Here are some resources to help you get started.
---
Get educated and organized.
The resistance organization, StayWoke, has published a 'Resistance Manual', which comprehensively lists all the ways to battle regressive aspects of his platform.
They're belief is that there are more of us who believe in equity and justice than who support Donald Trump's ideology of fear and hate and that together, we can harness the collective power of the people to resist the impact of his presidency and continue to make progress.
Read up on the various aspects of the GOP policy agenda and get a better feel for what's most important to you.
---
Limit yourself.
It's no secret that we're living in a political shitstorm. There are A LOT of issues and there is A LOT of noise being created about them. Unless you are willing to commit yourself to the resistance full-time, consider choosing causes that are most important to you to avoid spreading yourself too thin.
Also consider limiting your social media interaction or at the very least, taking it with a grain of salt; Facebook in particular. I know many people who have removed the app from their phone or taken a hiatus from the platform altogether. Do what's right for you and if you're staying, maybe try out some tools to help you focus and make your usage purposeful.
Why Go On Facebook is a Chrome Extension that will literally stop you before you access it to ask you why you're going. If it's just habit, you might gain an awareness and use it less overall.
---
That's all I got; for now at least. This is not an exhaustive list by any means, but one to at least get you started if you're unsure where to begin. I do hope it was helpful.
If you have other resources you're using and want to share, Twitter is a great place to find me. My biggest advice during this time is just to be kind. Be a little more gentle with yourself and others and try to have patience as we all are struggling in some way. ?